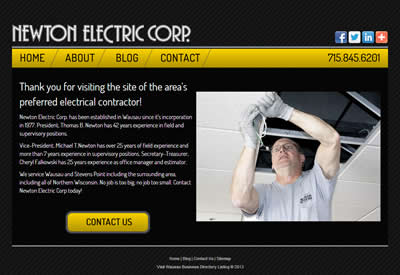 New Newton Website
Thank you for visiting the site of the area's preferred electrical contractor!
Newton Electric Corp. has been established in Wausau since it's incorporation in 1977. President, Thomas B. Newton has 42 years experience in field and supervisory positions.
Vice-President, Michael T.Newton has over 25 years of field experience and more than 7 years experience in supervisory positions. Secretary-Treasurer, Cheryl Falkowski has 25 years experience as office manager and estimator.
We service Wausau and Stevens Point including the surrounding area, including all of Northern Wisconsin. No job is too big, no job too small. Contact Newton Electric Corp today!